The knowledge and skill of wood processing and log handling have been preserved in the family for a hundred years. This extensive experience guarantees that the Honkatalot log homes are always manufactured with the highest quality of craftmanship. We consider the qualities and characteristics of wood in our log production to be the best in the world.  This is why a Honkatalot-log home is an environmentally sound choice. It is a home that remains new for years and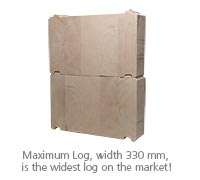 years.
The product selection presents all alternatives from traditional round logs to massive laminated logs. Our most popular product in domestic markets is a laminated log of Nordic White Spruce that is glued horizontally (240 mm. Super Log). The widest log on the market is the Maximum log with a width of 330mm. The spectacular large laminated logs will make your log home feel cozy and inviting during cold winter months.

The most important and influential factor in the quality of the final product is the high quality grade of the wood. Most of the raw material used at Honkatalot is Nordic White Spruce. Honkatalot uses only the top five quality grades of spruce, the quality grade VI is not used at all, even though it is a commonly used raw material on the market. The amount of knots and the color of the wood reveal  the quality grade. The highest quality grade shows the least number of knots, small in size, with a lighter wood tone.
The use of only highest quality raw materials results in a homogeneous appearance to the home for years to come.
The majority of Honkatalot log homes are constructed using spruce, which is an ideal material for log homes.  The cell structure of spruce closes up in the drying process and has the same characteristics as the heartwood of pine.  This characteristic extends from the surface to the center of the wood.  Due to its unique cell structure, spruce will not absorb as much moisture as pine. (more information this topic is available from the home page of Rakennustieto).
The spruce log is lighter with fewer knots than its pine counterpart. It will remain lighter as time passes, and does not darken the same way as the more traditional pine log.
| | | | |
| --- | --- | --- | --- |
| | | | |
| Pilvi 108 | Säde 141 | Peurankello A 151 | Peurankello B 151 |
| | | | |
| | | | |
| Mainio 155 | Tähti 163 | Traum 166 | Valio 170 |
| | | | |
| | | | |
| Soihtu 181 | Baum 182 | Jade 187 | Loiste 195 |
| | | | |
| | | | |
| Lumme 205 | Solina 225 | Viikuna 229 | Stille 231 |
| | | | |
| | | | |
| Solide 240 | | | |