Corrugated Web Beam Production Line
Fully automatic, computer-controlled production of corrugated web beams


Minimized welding costs through automation


Economic production engineering, high production speed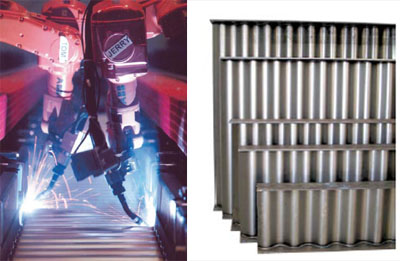 Zeman develops and manufactures machines for the production of light-weight construction elements for structural steel engineering. Technical innovation, competitive production engineering, high manufacturing velocity and last but not least specific experience in application technology represent the ideal combination for your problem solutions. Zeman was the first to manufacture a fully automatic, computer controlled production line for corrugated web beams, which minimizes all costly and time-consuming welding processes through automation. Brief processing times guarantee specified production deadlines and top rank for projects and prices. The Twintask-Rollformer is brand new: this machine can, on request and in accordance with individual requirements, be used for the production of straight as well as curved trapezoidal panels, including punched mounting bolt holes at the ends of the elements. Adjustment from straight to curved profiles can be carried out within a minimum amount of time by lifting resp. lowering the roll-forming unit.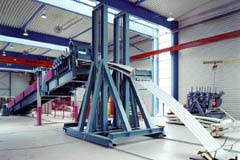 Other machines in the Zeman program are rollformers for cassettes, purlin profiling machines, rollformers for trapezoidal-section products, mobile decoilers as well as bending presses for small-radii.
The concept of construction behind this steel girder by Zeman & Co is attracting attention. The profiling of the web attributes to its high load-bearing capacity at low design weight, which represents a particularly economical solution for wider spans. Fully automatic production, invented by Zeman-mechanical engineering, guarantees short delivery times. The corrugated web beam | sin-profiles is used for all types of steel supporting framework in building construction: as roof girder, frame bearing structure (also multi nave and multi storey), as column etc.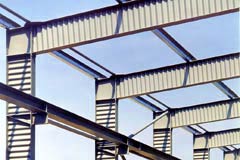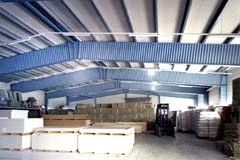 Zeman & Co was one of the first companies in Austria to use and manufacture trapezoidal sheets. The resulting know-how leadership in production, design and application of trapezoidal sheets makes Zeman & Co the ideal partner for architectural solutions in facade and roof construction.
Trapezoidal profiles allow convincing (and cost effective) architectural results. As they are corrosion and weather resistant, they are exceptionally hard-wearing.