Variable Polarity - Advanced Welding Technology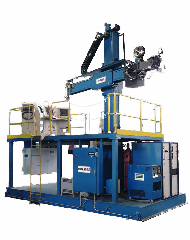 The Liburdi Pulsweld® patented Variable Polarity technology produces superior welds for the demanding alloys used in aerospace and advanced manufacturing applications.  The unique cathodic cleaning action generated by variable polarity pulsing provides the necessary tolerance to surface oxides, residual oils and coatings.  Systems can be configured for both manual and computer controlled applications. 
System Features:
Variable Polarity Pulsing
High-speed pulsing in the DC Electrode Negative (DCEN) forward direction, combined with DC Electrode Positive (DCEP) pulses in the reverse direction.
The reverse current pulses provide unique cathodic cleaning action to etch the material and remove oxides and contaminants in advance of the weld pool.
Unlike AC welding, Variable Polarity provides full range adjustment of the reverse current portion of the duty cycle to achieve the required cleaning and penetration.
Reverse Duty Cycle is fully adjustable under program control or by optional torch-mounted slide switch for manual welding.
Light Alloys - Aluminum, Titanium, Magnesium
Removes oxides while welding.  Used to produce single pass, full penetration plasma keyhole welds for aerospace applications.
High Strength Superalloys
Low dilution for successful welding of crack sensitive superalloys including Directional and Single Crystal castings and coated turbine blades.
Low Heat Input
For welding automotive parts, tailor blanks, tool steels, powder metallurgy parts and injection molds.
LCX-VP Microprocessor Controller
PC based microprocessor for high performance and reliability
Complete selection and control of critical welding parameters through easy to use hand-held pendant
Connects to either host remote computer or manual foot pedal
Programmable Weld Parameters
DCEN Pulse and Background Current, Pulse Frequency, Pulse Duty Cycle, DCEP Pulse Current, DCEP Duty Cycle, Starting Current, Final Current, Slope-up Time, Slope-down Time
All under microprocessor control for automated or manual welding
Specifications:
| | | | |
| --- | --- | --- | --- |
| Output: | | Input: | |
| Current: | 200 to 400 Amps   | Voltage: | 400 VAC-Three Phase-50 Hz |
| Accuracy: | Better than 1% | | 480 VAC-Three Phase-60 Hz |
| Power:   | 8 to 16 Kw continuous    | | |
| Open Circuit: | 300 V maximum        | Current: | 15-20 Amps for 200 Amp System |
| Duty: | Continuous (100%) | | 30-40 Amps for 400 Amp System |
| Pulsation:  | Up to 10,000 Hz      | | |
Configuration:                                         
Unit -      22" (55 cm) W x 39" (99 cm) D x 47" (119 cm) H
Cabinet - 44" (111 cm) W x 39" (99 cm) D x 70 " (178 cm) H
Weight: 
550 lbs (250 Kg) (Single Cabinet)
650 lbs to 1350 lbs (294 Kg to 612 Kg) (Double Cabinet)
Pure Current
Less than 0.5% peak to peak ripple
High Speed up to 10,000 Hz, true square wave pulsing produces a narrow constrained arc with higher arc force, which results in lower heat input as compared with conventional power sources.
High Frequency Switching Regulator
Pulse Width modulation frequency is 150 kHz
Unlike inverter based power supplies, Pulsweld's® unique higher speed switching and current regulation technologies allow the current to be precisely controlled every 6 micro seconds.  This in turn provides assurance that the current is always correct in spite of abrupt changes in arc gap, surface contamination, input line spikes, etc.
Options for Variable Polarity Systems:
Optional torch-mounted slide switch for manual adjustment of reverse pulsing cleaning action
Special GTAW and PAW torches available
Standard Modular Systems
GAW and PAW Systems:
GTAW/PAW Variable Polarity Systems ranging from the 200 Amp system for low heat welding to 400 Amp high power systems for keyhole welding
Modular for ease of maintenance and back up
Modules include:
A400 - Arc Starter
Pulsweld® Arc Starters are "Impulse" technology to provide the high voltage potential needed to initiate a welding arc without the high frequency radiation
PC30 - Plasma Pilot Arc Current Source
Pulsweld® Plasma Pilot Arc current sources are designed to supply a constant current across the electrode-orifice gap of a plasma welding torch.  This unit features a built-in "impulse" style pilot arc starter regulated and programmable from 1 Amp to 29 Amps in 1 Amp increments
T400 - Power Console
The Pulsweld®  power console conditions, transforms and rectifies prime power needed for the Variable Polarity welding system.  The unit is rated at 16 Kw of continuous power
VP - Variable Polarity Unit
The patented Pulsweld® Polarity Reversal units are current-steering modules which connect to the output of the power sources to provide a flexible combination of straight and reverse current during the welding cycle.
Control Loop Bandwidth
Small and large signal bandwidth greater than 10 kHz
Fast response time provides precisely regulated current regardless of external forces such as power line interference.  The power source maintains sharp rise times, with no overshoot for optimum pulsed current applications.
Drift Free Operation
Better than 1% accuracy
Stable, repeatable performance from all Pulsweld® power sources.  Weld settings are repeatable from unit to unit for consistency in multi-unit manufacturing operations.
Computer Compatability
Eliminates interference between power source and computer
All systems are designed for computer control and eliminate conducted EMI through control cables.  Pulsweld® arc starter designs do not employ high frequency radiation often found in other welding systems.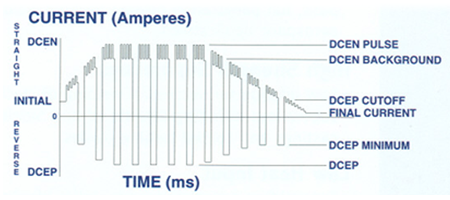 Welding and Automation Support
Liburdi provides a complete range of robotic motion systems, vision systems, power supplies and controllers, as well as engineering support to develop the weld procedures and qualify the welds for metallurgical quality.